The various platforms designed by Gurudev through which Rishiji spreads happiness, truth and celebration.
Happiness Connect
The nature, the creator has bestowed extraordinary potentials in human mind. Every human being is like a power house having the ability to create his/her own reality. But neither in our education system nor in our social system the training of exploring this infinite potential is included. As there are rules and laws of the physical universe, there are very specific laws on which human mind functions. Understanding the principals of human mind (the science of being) and learning to use those extraordinary powers (the siddhis) to enhance the quality of life is the Art of Living.
The Art of Living Happiness Program is an introduction in this untapped, unexplored reservoir of energy and potential within.
The Sudarshan Kriya, an extremely powerful breathing technique helps one to get a glimpse of who we really are.
In the process of taking right decisions, one needs expanded vision to view the situation from a broader perspective, wisdom to make the appropriate choice from available options and inner courage to execute the decisions and also face consequences. This Art of Living Happiness Program specially designed for the leaders and decision makers of the society, gives all these practical tools.

Benefits:


Benefits:
Disease free, healthy body
Stress free, happy mind
Enhanced self-confidence and clarity in decision making
Beauty and harmony in personal relationships
A deep insight into what it means to be a human being
A life that is full of enthusiasm, positivity and celebration
Advanced Meditation Program
The Art of Living Part 2 Course, usually offered in residential retreat for a minimum of 3½ days, provides optimal conditions for going deep within,quieteningour mental chatter, and experiencing profound rest &inner silence. This course builds upon the Sudarshan Kriya breathing technique offered in the Art of Living Happiness Program.
The practice of silence – of consciously withdrawing our energy and attention from outer distractions – has been used in different traditions throughout time as a pathway to physical, mental, and spiritual renewal.
By participating in various course processes specifically designed to take us beyond our usually active minds, we experience an extraordinary sense of peace and renewed vitality that we carry home with us and into daily lives.
The Art of Living Part 2 course includes:
Rejuvenating Yoga
Two to three days of guided silence practice
Unique guided meditations designed by Sri Sri Ravishankar
Advanced breathing techniques which can also be practiced at home after the course
Advanced insight on the laws governing our mind and emotions. The course is typically held as a residential retreat in a place of natural beauty and tranquility. It's no wonder that many course participants refer to it as the ideal vacation for body, mind, and spirit.
Blessing Program
The ability to Bless is the Highest Siddhi of the Human Consciousness.
To Invoke this Siddhi, one needs to Experience Tranquility, Piousness & Unification with the Divine. The Blessings Program takes you through this Life Transforming process of Deepest Purification
Dynamism for Self & Nation
Break through all your barriers and experience your limitlessness
DSN is a rigorous and transformational course that empowers participants to break through personal inhibitions and barriers and access inner stability and power. We each have a deep desire to be the best we can be - for ourselves, our families, our communities and our world - but many of us have personal barriers, old habits, emotional wounds, fears and inhibitions that hold us back and keep us from fully participating in life.
DSN uses a combination of yoga, powerful processes, and deep spiritual knowledge to break through personal barriers, empower one's self, and allow us to fully be of service to ourselves and others. The pre-requisite is The Art of Living Happiness Program.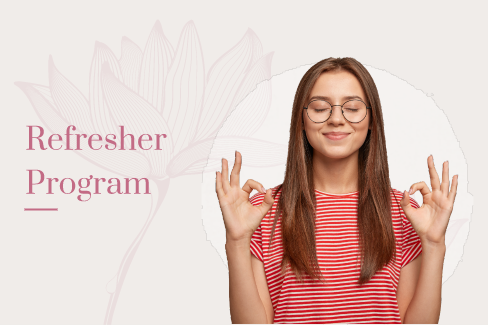 Refresher Program
This is a 3 hour, 3 days program specifically designed to re-invoke and refresh the experience of the happiness program. It takes one through a meticulous exploration of speeding up the process of evolution. One comes out rejuvenated, energized with practical techniques to deal with all the aspects of life. A must for a seeker of the truth of life!
Sumeru Sandhya
An enchanting evening of life transforming practical wisdom, deep meditation and blissful singing Gyan – Dhyan – Gaan
In this exhilarating program of approximately 3 hours, both spheres of the brain are kindled. The left brain responsible for logical thinking, analyzing and evaluating gets kindled. The right brain which handles creativity, emotions, fun and celebration gets enriched by extremely powerful vedic chants.
Music has the ability to invoke any emotion, any Bhaava in the collective consciousness. Through precisely chanted ancient mantras benevolence and abundance of material as well as spiritual wealth is invoked. One experiences a blast of energy that leaves one feeling satisfied, content, and blissful…
wanting for more.